Indi­vid­ual solu­tions for the process indus­try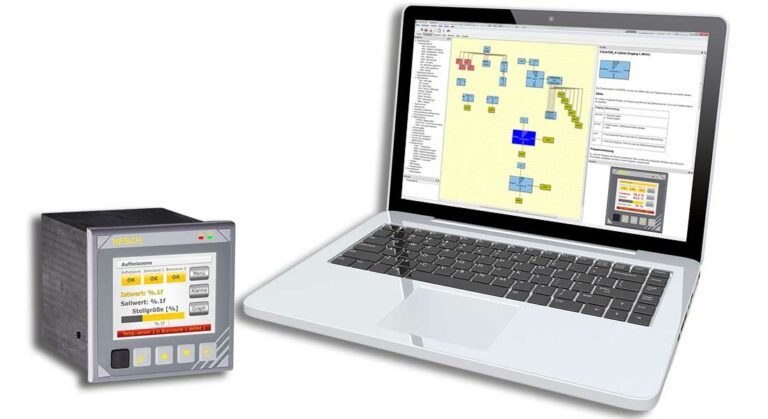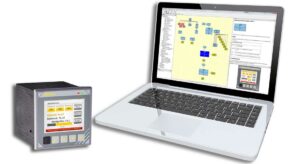 With the HE 5697 MFC, every plant tech­ni­cian can map com­plex process sequences intu­itively, quickly and com­pletely with­out pro­gram­ming knowl­edge. This way you remain inde­pen­dent of a pro­gram­ma­ble logic con­troller, also called PLC. You can adapt, opti­miseand fur­ther develop your desired processes at any time in a cost-neu­tral man­ner.
Soft­ware »Easy­Tool MFC« – Always under­stand­able
The cor­re­spond­ing soft­ware "Easy­Tool MFC" has more than 100 pre-con­fig­ured and tested func­tions that can be eas­ily assem­bled on the PC by drag & drop. The soft­ware offers you up to 20 national lan­guages to choose from. You decide freely and flex­i­bly which and how many lan­guages your appli­ca­tion should offer. The soft­ware pro­vides you with the trans­la­tion tem­plate with just a few clicks. All texts in your project are pre-sorted the­mat­i­cally by the pro­gram and out­put as a for­mat­ted CSV file.
Uni­ver­sally applic­a­ble
From food pro­duc­tion (heat­ing of a batch with sub­se­quent cool­ing) to ther­mal pro­cess­ing, there are count­less sec­ondary processes that are so dif­fer­ent that their sequence con­trol could not pre­vi­ously be rep­re­sented by just one con­troller. The HESCH mul­ti­func­tion con­troller is the solu­tion for every con­ceiv­able appli­ca­tion in the field of indus­trial (ther­mal) processes with sequence con­tro.
Try it out! We would be pleased to make you an offer for your indi­vid­ual STARTER-SET.