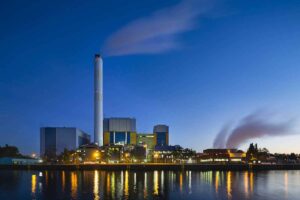 Auto­ma­tic moni­to­ring of valve and fil­ter func­tions
Espe­cially large fil­ter plants with several hund­red clea­ning val­ves and many thousands of fil­ter bags, such as those found in waste inci­nera­tion plants and cement works, should have a high degree of auto­ma­ted moni­to­ring pro­ces­ses to ensure that the plant is always fully func­tio­nal.
For this rea­son, HESCH has inte­gra­ted an auto­ma­tic hose rup­ture moni­to­ring sys­tem into the HE 5750 clea­ning con­trol sys­tem in addi­tion to exten­sive moni­to­ring of the clea­ning valve func­tion. For this pur­pose, only one cen­tral dust sen­sor is optio­nally requi­red, which, moun­ted in the clean gas duct at the fil­ter out­let, moni­tors the dust load of all cham­bers.
Example cal­cu­la­tion:

When using a 500 kW fan, for example, ope­ra­tors of dust collec­tion sys­tems can reduce electri­city con­sump­tion by around 10 per­cent and thus save around 22,000 euros in energy costs per year. ( At a kilo­watt price of 5 cents.)
Accu­rate hose rup­ture loca­liz­a­tion
If one of three freely defi­ned limit values of the dust load is excee­ded, the con­trol sys­tem auto­ma­ti­cally assigns this event to the respec­tive cham­ber and trig­gers the cor­re­spon­ding reac­tion (e.g. an error mes­sage, an alarm or the shut­down of the sys­tem).
In this way, not only is fault-free ope­ra­tion gua­ran­teed at all times, but in the event of a hose rup­ture, a mes­sage is also gene­ra­ted immedia­tely with the exact posi­tion of the dama­ged hose row.
This con­si­der­ably mini­mi­zes the time requi­red to locate a defec­tive fil­ter bag and thus incre­a­ses the avai­la­bi­lity and effi­ci­ency of the sys­tem.
Struc­ture of the clea­ning sys­tem
The HE 5750 sys­tem con­trol­ler is the cen­tral unit in the CAN net­work of the clea­ning con­trol sys­tem for indus­trial bag fil­ters. The cen­tral con­trol unit com­mu­ni­ca­tes with the decen­tra­li­zed valve con­trol units HE 5724 as well as the dam­per con­trol units HE 5740 via the indus­trial CAN bus.
The HE 5750 cen­tral con­trol unit takes over the task of coor­di­na­ting and moni­to­ring all con­nec­ted assem­blies and com­mu­ni­ca­ting with the con­trol sys­tem.
The HE 5724 slave con­trol­lers con­trol the valve con­trol and moni­to­ring pro­cess. The dam­per con­trol units form the inter­face to the dam­per actua­tors.
The HE 5750 con­trols up to 32 slave boxes. The con­nec­tion bet­ween the func­tio­nal units is made via CAN bus.
A con­nec­tion to a con­trol sys­tem via Pro­fi­bus-DP, Mod­bus or Ether­net is stan­dard.